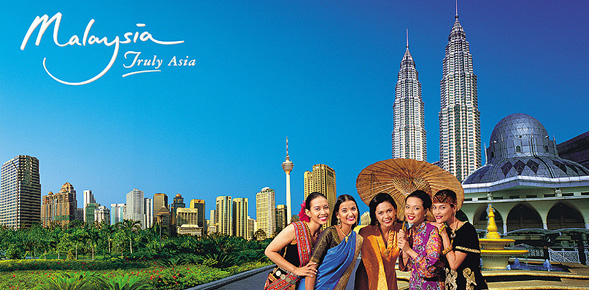 To know Malaysia is to love Malaysia. A bubbling, bustling melting pot of races and religions where Malays, Indians, Chinese and many other ethnic groups live together in peace and harmony. Multiculturalism has not only made Malaysia a gastronomical paradise, it has also made Malaysia home to hundreds of colourful festivals. It's no wonder that we love celebrating and socialising. As a people, Malaysians are very laid back, warm and friendly.
Geographically, Malaysia is as diverse as its culture. There are two parts to the country, 11 states in the peninsula of Malaysia and two states on the northern part of Borneo. Cool hideaways are found in the highlands that roll down to warm, sandy beaches and rich, humid mangroves.
One of Malaysia's key attractions is its extreme contrasts. Towering skyscrapers look down upon wooden houses built on stilts, and five-star hotels sit several metres away from ancient reefs. For the perfect holiday full of surprises, eclectic cultures and natural wonders, the time is now, the place is Malaysia.
Weather
Malaysia lies in the tropics. The temperature ranges from 25°C to 35°C and the humidity is high. Light clothing will be comfortable, with Western business suits appropriate for business calls.
Language
The official language for the Conference is English. However, in the public society, Malay, Mandarin, Tamil and English are commonly spoken.
Currency & Credit Cards
Malaysia currency is MYR with its monetary unit Ringgit. The exchange rate is 1 USD for about 4.00 MYR. For actual rates, please click here. Traveller's checks and credit cards are also accepted and money can be withdrawn with credit cards at banks or directly at automatic teller machines.
Credit cards are generally accepted in upscale hotels, boutiques, restaurants and other shops.
Taxi
Usually, a taxi is available along the roadsides, while you wave for it. However, on main streets it is normally available at taxi stops or in front of a hotel. Please request the taxi driver to charge by meter.
Business Opening Hours
Bank
Opening hours: 9:15 am to 4:30 pm, from Monday to Friday
(except for Fridays which is until 4:00 pm).
Post Office
Opening hours: 8:30 am to 5:00 pm, from Monday to Saturday
(closes on first Saturdays of the month).
Government Office
Opening hours: 8:30 am to 5:30 pm, from Monday to Friday.
Stores
Opening hours: usually 10:00 am to 9:00 pm,
but large shopping centers normally serve till 10:00 pm, from Monday to Sunday.
Electricity
In Malaysia, the standard outlets provide AC of 240 V/50 Hz.